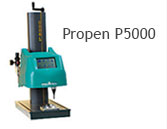 Propen P5000 is innovative, out-of-the-box setup, marking tool. Requires no PC or training.
Uses micro-percussion technology. Expanded memory, networks with external devices, USB capable and optional window based software.
Produces characters @5 per second with marking zone up to 120x100 mm, with capacity of 500 mm in height, adapts to size of part marking.
Click here for details